Each month's theme comes with 8 high quality children's books that form the foundation for the curriculum. Each and every day our read aloud lesson is based on one of these amazing children's books. We had several criteria for selecting texts…
Nurturing

These books were selected to nurture a love of reading in preschoolers. They are engaging, full of rhymes and repetition and full of information. They're also the perfect length, to respect a preschooler's attention span.

Inclusive

A recent study revealed that only 15% of children's picture books are about or written by people of color. But our books value diversity! Out of nearly 45 books that feature human characters in the blueprint curriculum, 85% feature diversity in those characters.

Balanced

We also looked for balance. From fiction to nonfiction to ABC books to counting books, to rhyming books –to expose children to a wide variety of genres.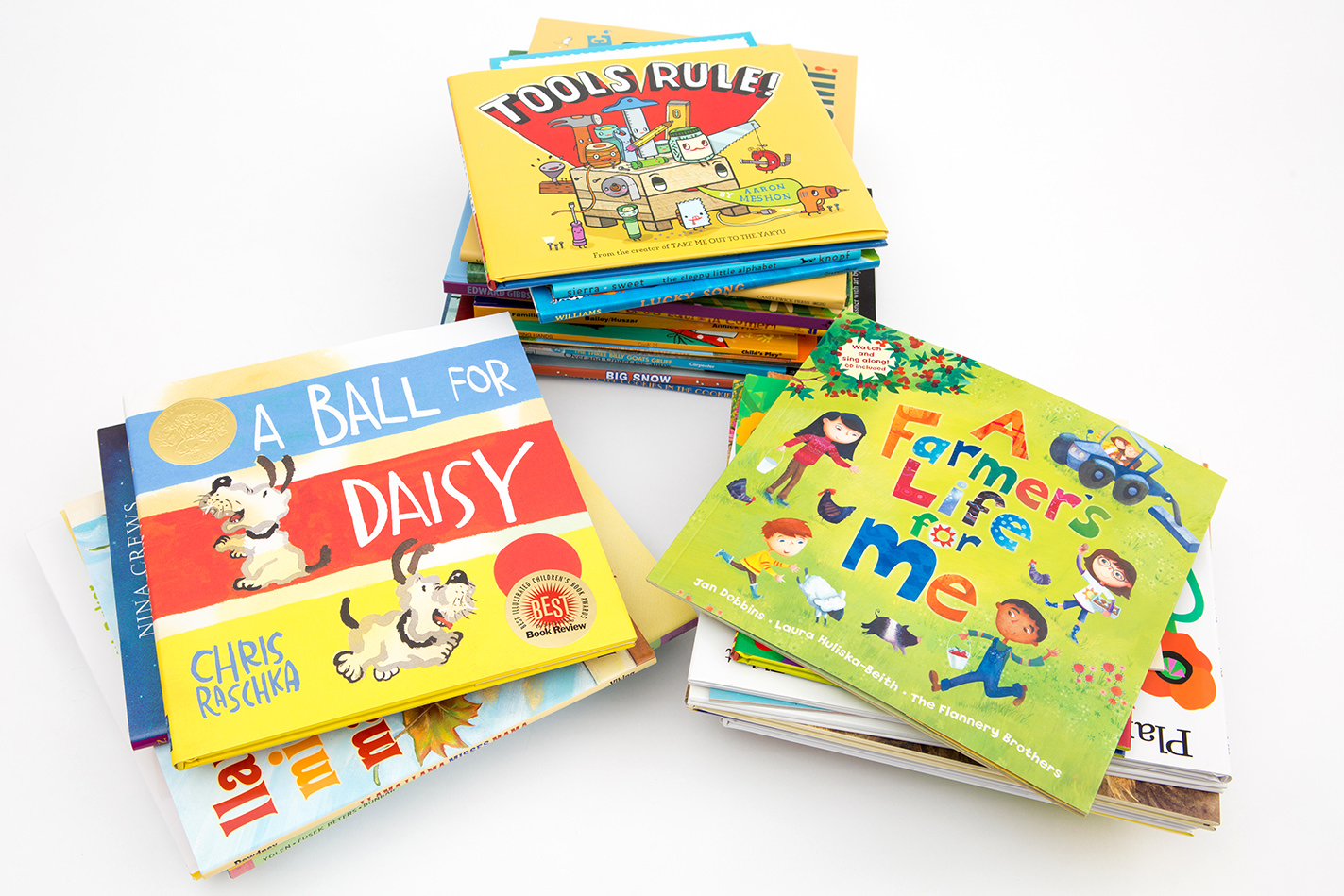 Little Blue Truck
Eyes, Nose, Fingers, and Toes
Reading Makes You Feel Good
The Bus for Us
Cat & Bunny
Friends at School
How Do Dinosaurs Go to School?
From Head to Toe
My First Day
Families (Morris)
Honey, I Love
Papa and Me
Mama Cat Has Three Kittens
Bee-bim Bop!
Swim, Duck Swim
Jazz Baby
Clothesline Clues to Jobs People Do
City Signs
Blackout
Trashy Town
Say Hello
Demolition
Have You Seen My Dragon?
Firefighters A to Z
Castles, Caves, and Honeycombs
Old Bear
Time to Sleep
Boom Boom
Such a Little Mouse
Our Apple Tree
No Two Alike
The Snowy Day
Bunny Money
Yummy
Lunch
To Market, to Market
Feast for 10
The Beeman
Apples for Everyone
Watermelon Seed
Me on the Map
My Granny Went to Market
Take Me Out to the Yakyu
What We Wear
One World, One Day
Hush!
A Pig is Big
Maria Had a Little Llama
Manana Iguana
This Little Chick
Little Red Hen (Finch)
Three Little Pigs (Galdone)
Three Little Pigs and the Somewhat Bad Wolf
All Pigs are Beautiful
I Spy on the Farm
Hattie and the Fox
Alphabet Under Construction
Actual Size
Building a House
Tooling Around
Dreaming Up
Old MacDonald Had a Woodshop
Tools (Morris)
Inch by Inch
Flower Garden
Compost Stew
Lola Plants a Garden
Plants Feed Me
Wonderful Worms
Do You Know Which Ones Will Grow?
A Fruit is a Suitcase for Seeds
Who Will Plant a Tree?
Step Gently Out
Waiting for Wings
One Duck Stuck
Birds (Henkes)
Bring on the Birds
Lucky Ducklings
Red Eyed Tree Frog
Jump Frog Jump